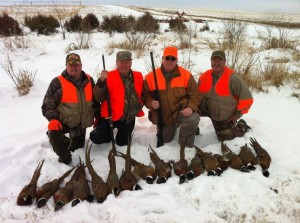 Thank you for your interest in Bad River Bucks & Birds, LLC.
Please complete the information requested below and click the "PULL THE TRIGGER" button when finished.
If you are requesting that we contact you by phone, please be sure to include your full telephone number. Either Brett or Scott will contact you as quickly as possible.
Please review our available hunts through our detailed calendar.
Get ready to experience the best pheasant hunting in South Dakota.
Bad River Bucks & Birds Reservations Policy
Reservations require a $1,000 per gun deposit within 10 days of booking your hunt. Final remaining payment is due upon arrival. In the event of a cancellation more than 60 days prior to your arrival all deposits are nonrefundable. However, the remaining balance may be applied toward a rescheduled hunt up to one year. Cancellations made within 60 days of arrival date forfeit all monies paid. If fewer guests arrive then were initially booked, any monies paid cannot be applied as payment for other guests or services.